I guess my most exciting news right now is that I'm going to Berlin, Germany for my spring break. I was accepted into the study abroad program at school to go. This quarter is the class, we're going for 10 days to Germany, and then in mid April, we turn in our research project associated with everything. It's an upper level English class, so we're reading a lot of literature that is centered around Berlin.

So far, we've read:
The Glimmer Palace by Beatrice Collin - if you like historical fiction, you should read it. I really enjoyed it.
The Berlin Stories by Christopher Isherwood - It's hard to describe this book, but I find it interesting anyway. The queer theory behind the book could definitely be explored extensively.
Every Man Dies Alone - Still reading. Not a big fan right now. Struggling to continue reading.

My presentation and beginning of my research for the class is Expressionist German Film from the 1920's. It might branch out more into War Time Film or something like that. I haven't completely decided yet what it will be about. I suppose we'll end up seeing eventually and then I can present it in more detail and hopefully a more interesting and well organized way.

I have more things to talk about, and I will, as the days go on. This way I can not overrun an entry with a bunch of random crap. Perhaps it will help me keep things organized.


Three Things:
1. Going to Germany for Spring Break :)
2. Snow Day today!!
3. Pretty Little Liars. I am fucking loving this show.

I'm finding it really difficult to figure out where to begin talking, what to talk about, what to put in here anymore. I have thoughts, things that happen, but everything feels way too dramatic to write, I feel blank and have nothing to write, or it's so generic it seems like it'd be completely uninteresting. So this post will probably just be a mess of random crap that's going on, random things I have to say, some long, some short. In essence, I've been trying to psyche myself up enough to write everyday. A little bit. Even if its just creative writing or writing down a to do list and putting it up on here. I've also decided to try to put up a short list everyday, 3 things, that went well overall or just for the day or something like that. It seems silly, but maybe it'll make me focus on the good things that happen to me everyday.
Current Mood:

cheerful

Current Music:

"The Red" - Chevelle


I'm going to try to take Michael Bluth's advice, although it will probably make me a miserable person for the next 4 days. "Keep your head down and power through." Blah.

Work. Paper writing/studying. Sleep.
Paper Writing/Studying. Exam. Work. Paper Turn in. Sleep.
Paper Writing. Meeting for Collab Project. Work. Paper Writing. Sleep.
Paper Writing. Collab Project Presentation/Paper Turn in. Work. Paper Writing. Sleep.

Wow. This looks depressing.
I really should have used my time more wisely yesterday. Instead I spent too much time relaxing and doing nothingness instead of really focusing on homework and powering through it. I now have 4 days to complete everything. I also work the next 4 days. This sucks. I'm so ready for this quarter to be fucking over.


I'm starting to track down Grad Schools, as well as converting their undergrad requirements for a MdE - Masters Degree of Education. I've considered the PhD track in English too.. and I'll be looking at that more I think, but I'll probably stick with an Education Masters program for now.

At the same time, I'm looking to do the Teach for America program. So, I'm also going to have to start working on the application for this over Christmas break. I'm really hoping I can do something like this. It would be great. I've looked into other options too, like the JET program, which is teaching English in Japan as well as Teaching Fellows options that are out there. These kind of these may never actually come to fruition, but if I was able to get into one of the programs, I think I'd definitely take it. If anyone knows of programs they have heard of, I'd be interested in learning more about them so say something!

I started working as a tutor in the Writer's Studio this quarter. I wish I would have done this sooner! I love it so much. It's a lot of work, taking the class to become a better tutor and tutoring twice a week, but i really enjoy it. I'll be working there next quarter! :D

I have a lot to say but I can't seem to even make it all come out right now. It's so much work, but I'm happy that I'm doing this. Now it's all a matter of everything falling into place.

In other news: I've started drinking less pop and forcing myself to start a workout routine. We'll see how this goes.
This quarter has been outrageously busy. And I'm only taking 3 classes. That's it. It's like, the least amount of classes I've ever taken, and the busiest quarter I've ever had.
Current Music:

"Pushing Me Away" - Linkin Park
I'm currently waiting on WoW to finish updating. I don't really know what the hell its doing. Halloween starts Monday on there! Last achievements before I get my Violet Proto Drake! :D
Woo!
I already posted my new shoyru customizations for Neo. I love them both :) I love Tim's too, but his still doesn't really look complete :( Mainly because none of the warrior stuff matches sadly. I have a custom set up for Lydia too but she's not currently on the account, because I've been zapping on my main, so I had to move her.
I might post more later about school and stuffs, but there isn't much to say really. <3
I need to finish my icons for some of the upcoming 20in20 deadlines. Bleh. It's going to be hard for make myself do so, because I realized that I lost all my screenshots and therefore have to look up pics. Which, is frustrating, but I guess I'll just have to do it.
Current Music:

"All Around Me" - Flyleaf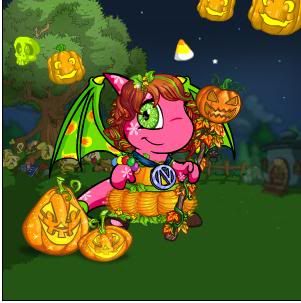 These are my two shoys that i have dressed up for Halloween so far. :)
I have the outfit for the third, but I haven't got it all set up yet. And my 4th is sort of, in progress, as usual, since I can never make things for a warrior all seem to match : /
Yes, I caved and bought some NC for these but, they are so cute! :D
10 THEMES




| | | | | |
| --- | --- | --- | --- | --- |
| Harry | Ron | Hermione | Marauder(s) | Professor(s) |
| | | | | |
| | | | | |
| DA Member | Order Member | Evil/Enemy | Magical Creature | Magic |
| | | | | |



5 CATEGORY – HOUSES




| | | | | |
| --- | --- | --- | --- | --- |
| Gryffindor | Ravenclaw | Hufflepuff | Slytherin | Hogwarts |
| | | | | |



5 ARTIST'S CHOICE




| | | | | |
| --- | --- | --- | --- | --- |
| Artist's Choice #1 | Artist's Choice #2 | Artist's Choice #3 | Artist's Choice #4 | Artist's Choice #5 |
| | | | | |
Alternates









Current Mood:

chipper

Current Music:

"Over the Mountains" - Eisley
So, here are my icons for Round 3 of Theoffice20in20. I had fun with these. Let me know what you think. :)


10 THEMES




| | | | | |
| --- | --- | --- | --- | --- |
| Candid | Blue | Upside Down | Initials | No Face |
| | | | | |
| | | | | |
| Blank | Hurt | Close Up | Profile | Double |
| | | | | |



5 CATEGORY – Lighting Effects






5 ARTIST'S CHOICE




| | | | | |
| --- | --- | --- | --- | --- |
| Arist's Choice #1 | Arist's Choice #2 | Arist's Choice #3 | Arist's Choice #4 | Arist's Choice #5 |
| | | | | |
Current Mood:

blah

Current Music:

"Blackout" - Muse
hp20in20
. Please let me know what you think! :)
10 THEMES



| | | | | |
| --- | --- | --- | --- | --- |
| Anger | Black & White | Corner | Empty | Green |
| | | | | |
| | | | | |
| Heart | No Face | Profile | Smile | Touch |
| | | | | |



5 CATEGORY – GUESS WHO



| | | | | |
| --- | --- | --- | --- | --- |
| one. | two. | three. | four. | five. |
| | | | | |



5 ARTIST'S CHOICE




These are my icons for Round 11 in
Current Mood:

accomplished

Current Music:

"Breakeven" - The Script
I need to post the icons I made for
hp20in20
probably tonight. I did Hagrid this time. I like them. They're probably not as flashy as some other people's but I still like them.
My class starts Monday. It'll last for 5 weeks. Hopefully it'll go well.
I had the weirdest dream last night about a machine that could take you to different worlds, and it kept cutting back to some hotel where we were staying, watching some movie on the tv, talking about going swimming but never going, and my Mom and Dad considering getting a divorce but still living together. The whole thing was incredibly weird.
I'll try posting more later. For now, I need to eat and get ready for work.
PS. I have an Office mood theme now! :D
I need to make myself post more.
Current Mood:

thoughtful

Current Music:

"Don't Call it a Comeback" - Motion City Soundtrack